Hamilton Tiger-Cats 24
Winnipeg Blue Bombers 20
[TIGER-CATS GAME STORY] <> [BOMBERS GAME REPORT]









What a great team the Tiger-Cats promise to be in 2007!
Tonight's win followed a 35-23 win last week. That's 2-0 for the pre-season. Can they go 18-0 in the regular season?
They did a nice job of preventing themselves from rolling up the score against an inferior opponent and kept the Bombers actually believing that they belonged on the same field as the Cats. Then rookie sensation QB Timmy Chang led the Cats downfield to claim victory.
Next up:
Thursday, June 28th: Winnipeg at Edmontoon
Saturday, June 30th: Hamilton at Calgary
Photos:
The Tiger-Cats came out in their road white uniforms. Had they worn black they likely would have won by 40.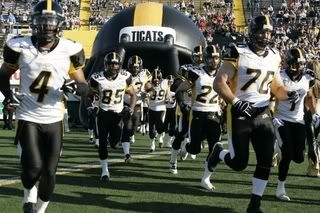 Nothing better than happy cheerleaders!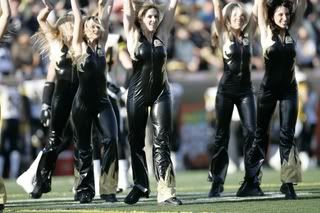 For a few minutes the game was played in an anti-gravity zone as a pre-season experiment. I oppose this move.