CANADA

25


TONGA

20
This was a great game. Canada had a 10-0 lead, fell behind 13-20, then rallied with the final two tries of the match to claim victory.
The games are all on TSN, who now have a dedicated rugby site:
http://www.tsn.ca/rugby/
There are video on demand replays of several games. Also,
ESPN.co.uk Rugby Site
has many audio and video offerings for you.
Here are the links you need:
Official Site:
RugbyWorldCup.com
Match Reports:
RugbyWorldCup.com
PlanetRugby.com
Scrum.com
RugbyRugby.com
Try them and then pick the best site for your prime rugby bookmark. They all have their strengths.
Canadian Media:
TSN.ca - AP Story
-
Once at TSN they have stories and video clips about the game and the tournament.
National Post
-
The story says a lot about the media outlook on rugby.
Slam!
- Similar to the NP story, but not as colourful.
Montreal Gazette - Postmedia Story
-
I like the comments on the gerrymandered schedule.
... Coach Kieran Crowley hasn't decided if he'll stick with the same lineup that picked up the win over Tonga, with the extent of O'Toole's injury determining at least one potential lineup change.

"We'll assess it," said Crowley. "This is the World Cup and you've got to go out there and try to win each game. But I can't guarantee the same group will go out."

Canada will go into Sunday's match at McLean Park in Napier, New Zealand, with three days off between games, while France has a week between games.

It's something Crowley wasn't happy about.

"It makes me laugh," said the coach, who played from 1983 to 1991 with the New Zealand All Blacks. "The Tier 2 nations only have four days' turnaround and Tier 1 has seven or eight days. It is what it is. We knew that this is what it would be like when the draw came out." ...
White Cover Magazine
-
This little blog had a good bit on the controversial referee decisions which seemed to doom Canada in the 2nd half:
Surprised because the refereeing didn't really seem to favour Tonga (I don't believe any set of referees in this tournament have any care or emotion for who wins any of these games, unless the matchup is New Zealand v. Australia), but because it was so piss poor in every way that even the commentators and the play-by-play men couldn't describe what they were seeing… they couldn't describe this flaccid performance by the bald men in the pinnies.

Couldn't describe why Canada was getting the royal shaft on every whistle.

"Huh…"

That was one of the responses they had during a replay after the Canadians were penalized for obstruction. It was followed by this:

"(… crickets …)"

The worst (actually, missed) call came with the Canadians pushing the ball up field, surprising the Tongans with a grubber kick that caught them off guard and pushed them deeper into their own zone. Forgive me, because I don't remember who the Canadian was, but the Tongan hooker (who was too fat, too slow and too surprised to actually make a play for the ball, and who was embarassed by the Canadian flying past him at full speed) stuck his foot out and sent our boy flying.

The crowd erupted, the commentators reached for the replay. Like any rugby or soccer game, they immediately took the initial reaction of neutrality, urging viewers that they didn't think it was as bad as it looked in full speed… that was before they saw the replay, though.

"OH!" both of them shouted. "He's lucky to still be on the field," they said of the Tongan, before the ensuing line-out. It turned out to be a 14-point swing, with Tonga scoring immediately after (and adding the conversion) to go up, 20-13.

There were more bad calls… more and more that the commentators couldn't rationalize and viewers couldn't understand.

Trust me, if you watched this game hoping to get a greater understanding for the rules of rugby and how it's played, you were S.O.L. ...
Victoria Times-Colonist
-
The Castaway Wanderers is a great team name, and it makes one think back to the amateur days of rugby.
It's as if the crowd packed into the Castaway Wanderers clubhouse on Discovery Street late Tuesday night felt a personal connection to Team Canada's heart-racing 25-20 World Cup rugby victory over Tonga in Whangarei, New Zealand.

That's because they did have one. Actually, 11 of them.

"Eleven out of the 30 Canadian players [at the World Cup] have played at least one season for the Castaway Wanderers," said club member Chris Spicer, whose son and former UVic Vikes star Dave Spicer, now in medical school, played for Canada in the last World Cup in 2007 at France.
The Globe and Mail
-
Player Profiles
-
Photo Gallery
Some teams at the tournament have saved players in certain matches to keep them fresh or available for other games in the pool. Japan has basically conceded defeat to New Zealand by naming a second-string squad, and France is considering sitting out many of its frontline players against the All Blacks as well.

Tonga even rested players against Canada only five days after losing the tournament's opening match to New Zealand.

Crowley doesn't have the same mindset. His aim is to finish third or higher in the five-team group, to earn automatic qualification for the 2015 edition. Canada reached the quarterfinals in 1991, but hasn't been close to repeating that in the four editions since.

"This is a World Cup, you go out there to try to win each game," he said. So, barring injuries, he'll be putting his best team on the field against France.

And why not, the way they came back was impressive.

"It's a tribute to them," he said, later joking: "Makes me proud to be a Canadian."
International Media:
Daily Yomiuri (Japan)
Yahoo - UK
NYT: Second-Tier Teams Narrow Gap at Rugby World Cup
Jebb Sinclair and his beard scored the first try.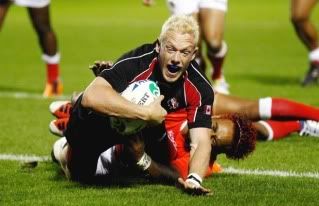 Phil "The Hoser" MacKenzie scored the last try.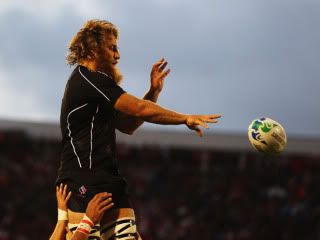 The bearded Adam Kleeberger was Man of the Match.


And it all led to happiness!