MOUNT ROYAL COUGARS

2


MANITOBA BISONS

4
(CW quarter-final tied 1-1)

Links:
:. [

LS Summary

] : [

CIS Boxscore

]
:. [

U of M Game Story

] : [

U of M Boxscore

]
:. [

MRU Reposted Story - Friday

] : [

MRU Boxscore - Friday

]
:. [

MRU Reposted Story - Saturday

]
:. [

CW Story (on all games)

]
:. [

CIS Saturday Roundup

]
The Bisons needed the win to stay alive, and they got just that. Here's how they lined up:
MANITOBA
Goal:
1 Caligiuri (34 Dubyk)
Defence:
2 Crowley - 22 Bestland
12 Sutherland - 24 Bobbee
6 Paulsen - 5 Christensen
Forwards:
29 Cain - 25 Ciarelli - 18 Kelly
21 Dickin - 10 Rowinski - 27 DePape
16 Paradis - 19 Duval - 20 Lewadniuk
8 Coates - 15 Scott - 17 Lauder
MOUNT ROYAL
Goal:
35 Flette (1 Lanigan)
Defence:
24 Marshall - 20 Tresierra
26 Beech - 21 Strong
4 Hrynyk - 6 McKay
Forwards:
27 Cartier - 22 Brown - 9 Gannon
18 Kirsch - 23 Fiddler - 16 Galbraith
12 Eskesen - 8 Turnbull - 28 Knopp
17 Barrett - 19 Huisman - 25 Jewitt
The 1st period started with a fast pace and plenty of solid hits. The sides exchanged goals, with MRU defenceman Billy Marshall converting a rebound from a mad scramble and Taylor Dickin finishing a passing play with his linemates.
The Bisons put their stamp on the game in the 2nd period. From that point on they carried the play unless MRU had a powerplay. Jesse Paradis notched the only goal of the period, burying a loose puck after a period of sustained Bison pressure. Jordan DePape was ejected and given a 5-minute major for a head shot. The Bisons killed the penalty fairly easily and the New-Kittens-on-the-Block hobbled into the intermission.
The 3rd period was a very defensive one, which suited the Bisons just fine. Ian Duval scored a highlight reel goal. A Lewadniuk breakaway was foiled by a backchecking Cougar. But Bestland to Duval for a goal is what followed. A couple of chintzy penalties gave MRU a two-man advantage, and they cashed in the opportunity. Dickin's 2nd of the night into an open net on a nice pass from Duval put the game away.
Game three goes Sunday at 3:00 p.m. at the Wayne Fleming Arena at the U of M, and can be seen on-line at
CanadaWest.tv
.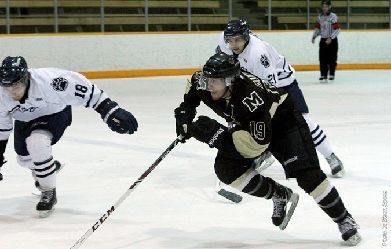 OUT OF TOWN SCOREBOARD


UBC THUNDERBIRDS

2


SASKATCHEWAN HUSKIES

5
Links:
:. [

LS Summary

] : [

CIS Boxscore

]
:. [

U of S Game Story

]
:. [

UBC Game Story

]
The Banjo-Mutts bounced back with an authoritative win to level their series with UBC at 1-1. It is hard to gauge this series with each side having a convincing win. If UBC win game 3 they would face Alberta and the Bison/MRU winner would face Calgary in the semi-finals.
OUT EAST:
Links: [

LeagueStat Daily

]

UOIT RIDGEBACKS

3


UQTR PATRIOTES

5
(UQTR wins OUA East quarter-final 2-0)
Links:
:. [

LS Summary

] : [

CIS Boxscore

]
This concludes the OUA East quarter-finals, all of which were sweeps. Now Cartoon U will face Queen's and UQTR will play McGill in the semi-finals.


WESTERN ONTARIO MUSTANGS

2


GUELPH GRYPHONS

1
(in overtime)
(OUA West quarter-final tied 1-1)
Links:
:. [

LS Summary

] : [

CIS Boxscore

]


YORK LIONS

2


LAKEHEAD THUNDERWOLVES

5
(Lakehead wins OUA West quarter-final 2-0)
Links:
:. [

LS Summary

] : [

CIS Boxscore

]
TORONTO VARSITY BLUES

2


WINDSOR LANCERS

5
(Windsor wins OUA West quarter-final 2-0)
Links:
:. [

LS Summary

] : [

CIS Boxscore

]
The Urban Cowboys had to score in the last minute to force OT in their game against Goof U, otherwise the 1st place team in the OUA West was on their way home. I suspect that Windsor and Lakehead were strong favourites in their series and both achieved solid sweeps.
UP NEXT:
Sun Feb 23 UBC at Saskatchewan (6:00)
Sun Feb 23 Mount Royal at Manitoba (3:00)
Sun Feb 23 Saint Mary's at UPEI
Sun Feb 23 Guelph at W. Ontario
Sun Feb 23 Brock at Ryerson
[

Playoff Schedule/Results

] : [

Saturday Roundup

]